Augusta Precious Metals is the BEST gold affiliate program in 2023! If you are a serious affiliate marketer and have not yet signed up with Augusta Precious Metals' Affiliate Program, the time to do so is right now! With demand for gold and silver at a very high level due to the high inflation and uncertain stock market, the time to get started driving leads and sales to APM is now.
Augusta offers the HIGHEST qualified lead and commission percentage payout of any of the gold IRA companies in the USA today! Augusta is the best gold affiliate program in the USA today!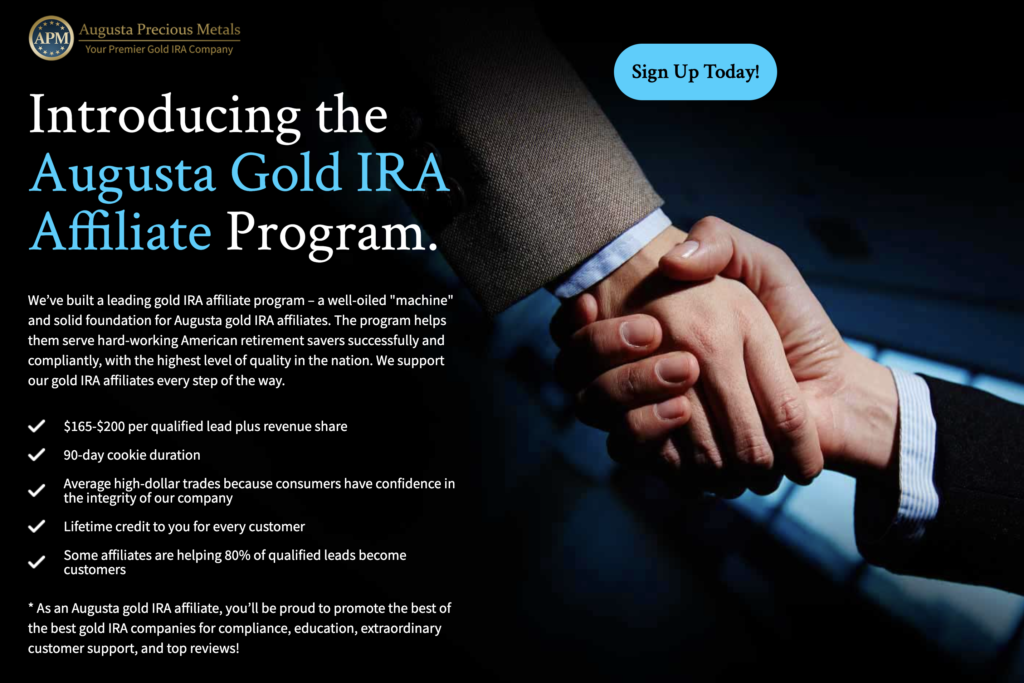 NEW! Higher Commission Rate!
Payouts of qualified leads are now $200, and closed deals is an industry topping 8%, which can go up to 10% after you get some qualified leads and if you meet some criteria.  
Amazing Payouts!
Augusta's average deal amount is $500,000, which is a lot higher than most other gold IRA companies. The no-sales pressure educational webinar with the Joe Montana video close is very powerful in converting qualified leads into sales with many affiliates seeing upwards of 50%-80% of their qualified leads turning into trades! Of course, your results may vary, based on the quality of traffic sent to your pages or phone number.
Qualified Leads are paid out as a $200 commission. A "qualified lead" is considered to have $100,000 available to invest in a new gold IRA or rollover from a current IRA or 401k for new affiliates.  When you work up to VIP and 10% commmission rate, your "qualified lead" amount drops to only $50,000!
The minimum investment with Augusta is $50,000 for a Gold or Silver IRA.
The Sales Process
Augusta Precious Metals does not "hard sell" with hard sales pressure. In fact, as of 2022, the sales team does not work on commission! We do not know of another gold IRA company that does it like this! Rather, Augusta EDUCATES the customer through a one-on-one video conference with a Harvard-educated "director of education" Devlyn Steele, along with his team. The educational webinar with a recorded sales closing process by NFL Legend Joe Montana has proven to be a very powerful converting funnel for the company.
Amazing Potential of Being an Affiliate!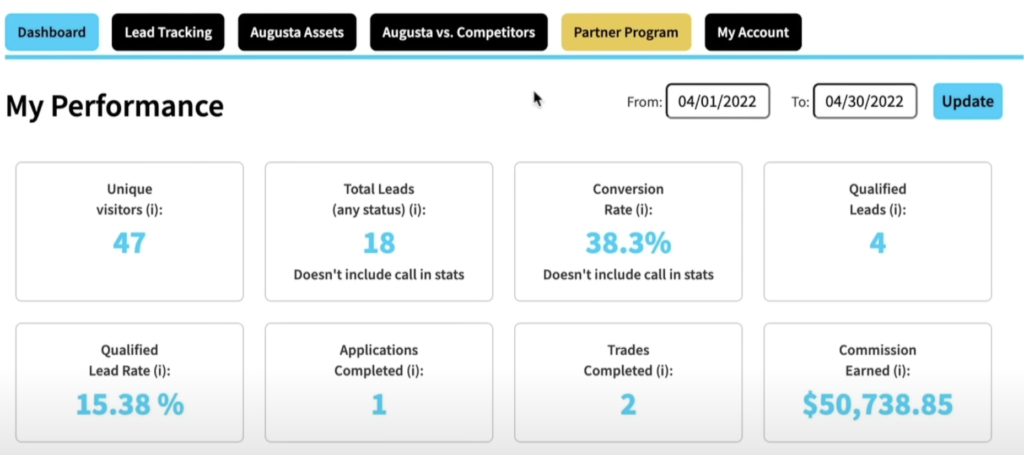 An Example of a Stellar Performer!
This is an actual example of what one stellar affiliate did in just about 3 months' time! This is not a guarantee of the income you will make, or the amount of good leads you will send to Augusta, you could earn nothing, more, or less. We don't know you, or what you are capable of. But there is absolutely NO COST in getting started, except for the time to build your websites or other free advertising methods, or money put into PPC or other advertising, which is not required, but can be a good way to get more qualified leads quicker and more deals done in a faster time if you are smart with what you do.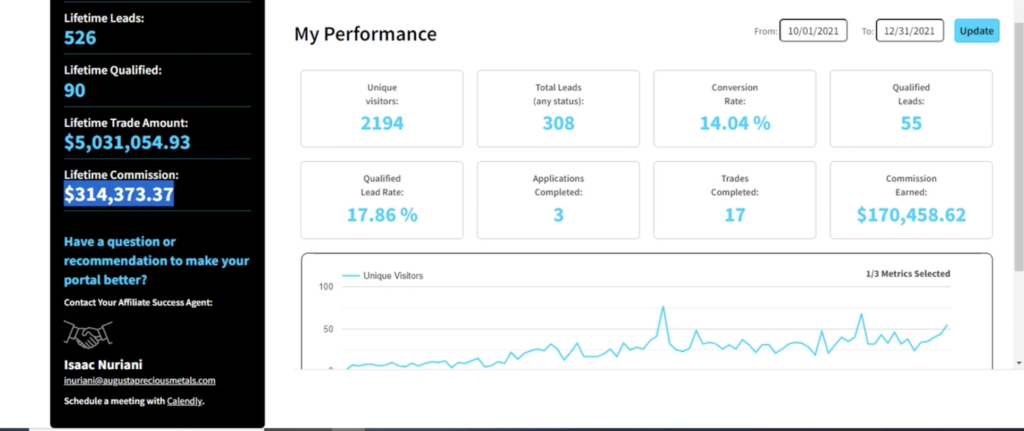 There is no Better Time than Now!
While other gold companies are paying $25 per lead and 3% commission, give yourself a big raise today as an affiliate marketer by joining the best with Augusta Precious Metals! As of October 2022: $200 per qualified lead and 10% commission on closed deals! Augusta is the best gold affiliate program in the USA in 2022!
Best Compensation in the Industry!
As of October 2022: $200 per qualified lead and 10% commission on successfully closed deals from Augusta's sales team!
Augusta Offers Top of the Line Gold IRA Affiliate Benefits
There is no better time to get on board as an affiliate with Augusta Precious Metals! Apply today!
Demand for Gold and Silver is at an All-Time High!
High inflation, uncertain stock market, and other factors are making this the perfect storm for an unprecedented demand for gold and silver!
NFL Legend Joe Montana is an Actual Customer!
Joe Montana told his financial team to research and find him the best gold IRA company they could find that he could trust. They did the research and came up with Augusta Precious Metals as their top pick. They set up a video webinar for him, which unbeknownst to the staff, Joe Montana attended personally. After that, it was full speed ahead to becoming a customer with the company. Later on, Joe became a compensated spokesperson. We know a lot of gold companies have spokespeople that endorse them. But how many of them were actual customers BEFORE being a spokesperson?
Money Magazine's Top Gold IRA of 2022!
In 2022, Money Magazine picked Augusta Precious Metals as the number 1 top gold IRA company in America! This is just their latest accolade in addition to all of the rest below!
Get Started as an Affiliate Today!
Apply below as an affiliate today with Augusta Precious Metals. You could be only a few clicks away from a $50,000 sale!